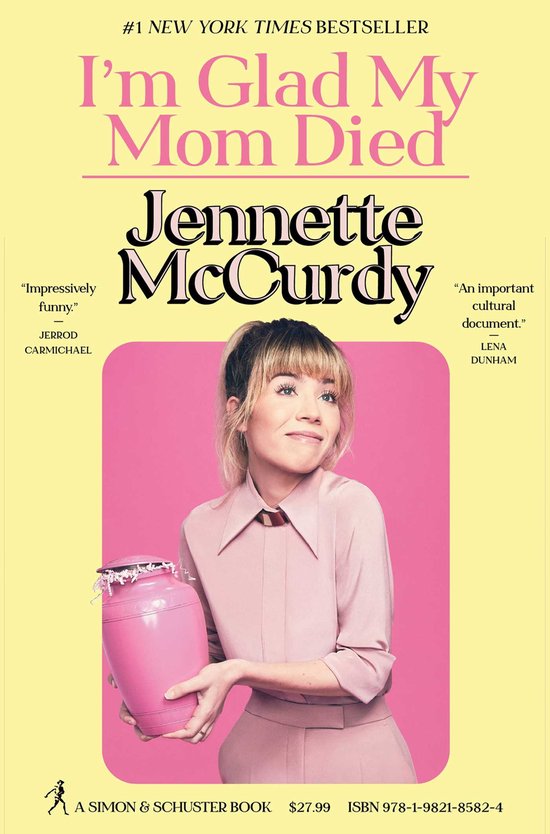 A heartbreaking and hilarious account from iCarly star Jennette McCurdy about her struggles as a former child star, the complicated relationship with her manipulative mother, and how she takes back control of her own life.
Jennette McCurdy was six years old when she got her first acting audition. It was her mother's dream that her only daughter would be a star, and Jennette would do anything to make her mother happy. So she went along with all her mother's manipulative whims, including what her mother called "calorie restriction": Eat little and weigh herself five times a day.
This created a strange dynamic between them
in which her mother personally showers Jennette until she is sixteen and moves in with her uninvited the moment she finally starts living on her own.
In I'm Glad My Mom Died
McCurdy does not shy away from a single painful detail from her childhood. When the dream finally comes true and she is cast in the new Nickelodeon series iCarly, her mother is ecstatic, but Jennette is overcome with fear, shame and self-loathing. Which ultimately translates into eating disorders, addiction, and a ton of unhealthy relationships.
It only gets worse when her mother dies of cancer shortly after she (alongside Ariana Grande) is given the lead role in the iCarly spinoff Sam & Cat. Only after her death, through therapy and by stopping acting, can Jennette accept how unhealthy and harmful their relationship has been for her and manage to really choose herself for the first time in her life.
Told with refreshing honesty and humour, I'm Glad My Mom died is an inspiring tale of resilience, independence and the joy of washing your own hair.
"A masterpiece… sharp humor and compassionate." – The Washington Post
"How can a book be so sad yet so funny? It's an art, and Jennette McCurdy has mastered it like no other. It's written hysterically and heartbreakingly fascinating at the same time." – Jenny Lawson, New York Times best-selling author of books about her struggles with physical and mental fragility
"An important cultural document." -Lena Dunham