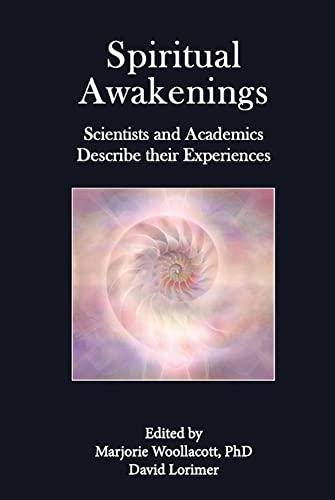 The essays in the book Spiritual Awakenings are a wonderful and varied collection of personal insights into individual spiritual awakenings and the resulting transformation in the lives of scientists and academics.
Scholars share the experience of their own spiritual awakening and journey, including encountering challenges to their credibility in academia, if they shared these experiences. Their comments about transformation in values, beliefs, and approaches toward life are very moving, expressing a deep inner wisdom and connection, not only with humanity, but with the earth and cosmos.
Testimonials about the book Spiritual Awakenings
Anne Baring, PhD (hons) (Author of "The Dream of the Cosmos: A Quest for the Soul")
"What a wonderful gift to a culture starved of visionary experience and how timely, when confronted by the situation we currently find ourselves in. This book will introduce spiritual experience to those who have not had a glimpse of it, will interest those who have, and will inspire and enlighten those who are fortunate enough to read it.
Because we are all connected, one individual's experience can enlighten and heal all. It will confirm the intuition that on this planet we are living in a Sacred Order, that there is no essential separation between the transcendent and the immanent orders of reality, and that the creative and sustaining power of the universe is Love. This is a book that could heal the traumatized soul of humanity."
Max Velmans, PhD (Professor, Goldsmiths, University of London)
"This is a fascinating collection of personal revelations – authentic, poetic, and deeply 'spiritual' in the most open, unlimited sense of that much used term. The essays reveal some of the most profound, life changing experiences of distinguished, critically minded scientists and academics, seeking answers to life's enduring questions, 'Who am I', 'How should I live my life?' and 'What is ultimately real?' Many fellow travelers will find these tales of help and inspiration in their own journey to a place that feels like home."
Tom McLeish, PhD, FRS (Professor of Natural Philosophy in the Department of Physics, University of York)
"This collection of personal testimonies of scientists' transcendent experiences provides a unique and polychromatic insight of human experience. Woollacott's and Lorimer's volume is unusual within science in both its grammar (first person) and topic (the subjective rather than objective). Yet both are essential aspects of human experience, especially so for those who peer most deeply into the mysteries of the material world. It will prove a thought-provoking resource."
Elisabet Sahtouris, PhD (Evolutionary biologist, and author of "EarthDance: Living Systems in Evolution")
"What a wonderful way to make Spiritual Awakenings more accessible and real to everyone. This collection allows us to access them through the personal stories of the experiencers who reveal how the events and insights came about and how they fit into their lives. Rather than results of research, these stories are personal, feeling like natural events in our human lives, and thus perhaps all our birthright. Many readers may thus recognize similar events in their own lives. What a gift!"
Lisa Miller, PhD (NYT Bestselling Author of "The Spiritual Child" and #1 National Bestseller "The Awakened Brain", Professor and Founder of the Spirituality Mind Body Institute at Columbia University, Teachers College)
"The reader may discover that reading the first essay of this compendium feels much like sitting on an airplane next to the most fascinating person that you ever have met, sharing in a life-changing profound spiritual awakening of love, unity or clarity. The resonance of the traveler's account feels moving and exciting, perhaps because you always have so wondered or sensed this depth of reality.
Quite by surprise, you then discover that the fellow traveler is a scientist! Hereby upending a long-held outdated view that science for its rigor, is a method that somehow cannot look into ultimate questions of spirituality. Well, perhaps that was just one scientist? But then you board your connecting flight, to find yourself in an equally deep engagement with the next fellow traveler, again a leading scientist, who shares that so too their landmark work was driven by spiritual awareness. So then you might wonder, how really is landmark, field-making science achieved?"
Marjorie Woollacott, MA, PhD, is a Professor, member of the Institute of Neuroscience and prior Chair of the Dept. of Human Physiology at the University of Oregon.
David Lorimer, MA, PGCE, FRSA is a writer, lecturer and editor who is a Founder of Character Education Scotland, Programme Director of the Scientific and Medical Network and former President of Wrekin Trust and the Swedenborg Society.
More about the subject