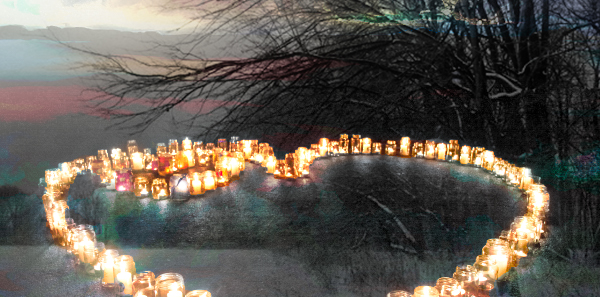 Every year on the second Sunday in December, it's Worldwide Candle Lighting Day. Everywhere in the world people come together to remember deceased children, and light a candle at 19.00 o'clock. Because of the different time zones in the world, a wave of light is created, which makes the world a little bit brighter for all the people who have lost a child.
I first heard about Worldwide Candle Lighting Day in 2008
By then, I had been a mum for about four months. A mum with empty hands, a mum who was busy recovering. Around me, people seemed to get on with their lives as normal, while my brain was still trying to make sense of everything that happened. I tried so hard to be normal.
What happened?
On the 8th of August 2008, I became a mother to Merian, four months before Worldwide Candle Lighting Day. She died during childbirth, in my 24th week of pregnancy.
It didn't come as a surprise that she was born that early. She would have died regardless, of the symptoms of Meckel-Gruber syndrome. My partner and I decided to end the pregnancy, so as to not prolong my daughter's suffering in my belly. Completing the pregnancy would pose a risk to my health as well.
She is beautiful, but visibly ill too
At home with the family we say goodbye to Merian, who's in a little coffin made of elm wood. Afterwards, she is cremated. After her cremation I had a beautiful, small urn made for her ashes. Rose tinted, and beautifully veined with white.
For the first few days after she was born, time stood still
I wondered how the world around just kept on turning while everything around me clearly came to a standstill. I looked through my windows, and watched TV with astonishment, observing everyday life, which I no longer felt a part of. A world in which I wanted to play a new, different role.
After several weeks I slowly started to move forward and regain control of my life
Recovering is often serving. I comforted many people, soothed the discomfort people felt because of my history, and defended my choice to the people who had a problem with it because of their religion. The fact that people, without being asked and without any knowledge of my situation, had an opinion about me, really hurt. When I told my gynaecologist about this, she told me that when religious people find themselves in a similar situation to mine, the choice to end their pregnancy is almost always supported by the church, and that this is the choice that is usually made.
Looking back, I tried so hard to be useful during that period. I tried not to moan, to not feel sorry for myself, and not to be an attention seeker. And I did well. Maybe sometimes, a bit too well.
Via the foundation 'Lieve Engeltjes' (Sweet Angels), I heard about Worldwide Candle Lighting Day
During that difficult year, I wrote to one of the support groups of 'Lieve Engeltjes', in which I found lots of support and recognition from other kind mums who were also left empty-handed, just like me.
"Within the foundation 'Lieve Engeltjes', there are several contact groups. Most of the groups are for parents whose child died during pregnancy, childbirth, or at a young age, not long after their birth. But there are groups for parents whose child passed away at an older age as well, or for those who have lost a child a little bit longer ago. There are also groups for dads and grandparents."
On Worldwide Candle Lighting Day I lit a few candles
That year (2008) I decided to go for a walk around the neighbourhood. Would there be more houses with a burning candle in it? I remember it being miserable, the wind was cold, the roads shiny and dark in the rain, the street lights bleak, and all the windows I walked passed were unlit and empty. It was a dreary night.
The circle of light, the recognition, I looked for it, but I couldn't find it.
And that was OK, though a feeling of warmth or connectedness would have been nice.
On the 17th of June 2009, I became a mum again
Our daughter and son, Mirthe and Martijn were born.
All of our children have a 25% chance of suffering from Meckel-Gruber syndrome
Both of us appeared to be carrying a defective gene. This particular defect can be ruled out from 20 weeks at the earliest and can't be diagnosed in any way before 16 weeks. The weeks are nerve-wracking and go by very slowly. Every test result, nuchal translucency and screening came back clear.
It was a big shock when both babies appeared to be ill at the 20 week scan
It turns out they both suffer from Meckel-Gruber syndrome.  Everybody, including the medics, had taken into account that one of the two babies could possibly be ill. That situation can put parents in a difficult position as well. But this situation, in which both babies have the genetic defect, in which three babies in a row, from the same family, all carry the gene, hardly ever arises, even in the specialised department of the University Hospital. For a brief moment, we thought they were identical twins. But it turned out that one was a boy and the other a girl, so they couldn't be identical. Just bad luck. And a shock to everyone.
Fortunately I was allowed to give birth in the local hospital
I know all of the gynaecologists well there, because they helped us on the long and challenging journey to getting pregnant, that is now behind us. For many women, getting pregnant is not just a matter of course. I am one of those women. This hospital is the place where I feel most at home.
Mirthe is stillborn, Martijn survives the birth.
Martijn is, however young and small he may be, with us for another hour, alive. He's wonderful. When he passes away he is warm, and cherished. Mirthe and Marijn get a butterfly-shaped coffin to share.
Since then, our three little 'M's' have become big sisters and brother
Our life wouldn't be worth living if it would have come to a standstill after these events. Even after this, life went on. We tried to set ourselves new goals, and look at the future. A future with kids. But  via a different path.
In 2010 and 2012, Merian, Mirthe and Martijn eventually became the older siblings of two sweet brothers.
With the help from good friends, we brought two healthy sons into the world
Our friends decided – after extensive consultation with their families – that they would be happy to be our sperm donors. As a team, like two families united, we 'fabricated' two beautiful boys. Perfectly healthy. Not in the natural way obviously, that would have been strange and legally complicated, but through insemination (which you can do at home by the way).
Our sons also gained a fun half-brother and older half-sister, at no extra cost
The children in our united families all grow up knowing that they are related to each other. They know who is biologically related to whom and why, and they all have a special bond with one another. They don't know any better and think it's the most natural thing in the world. It has turned out to be a happy ensemble.
 These days, I don't think too much about the three children that aren't with us anymore
The pain has gone. The chapter about their passing has closed, and it doesn't sting anymore. But they will not be forgotten. Every year, on Worldwide Candle Lighting Day, we light a candle for them at 19.00 o'clock.  This year (2022), Worldwide Candle Lighting Day falls on the eleventh of December.
Will you light a candle too?
Photocredits headerphoto: World candle lighting day